How To Care For Rosacea And Effective Acne rosacea treatment
Is there an effective acne Rosacea treatment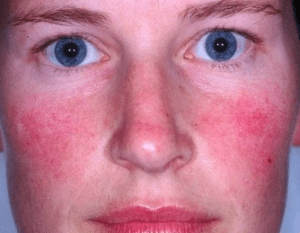 Rosacea also known as adult acne is a skin condition which is known to affect adults. This disease affects the face region and comes with severe redness and occasionally with pimples. This condition is considered harmless until  it affects the eye causing a burning sensation in the eye lids. But can it be treated?
Though this disease presents with more severe signs in men, it affects both male and female who fall within the range of 30 to 50 years. Children may also have this disease condition but it is rare. This disease spreads from the cheeks to the nose and then finally to the forehead. Redness of the neck may be observed in severe cases.
Though it is certain why, dark people are easily affected by this disease, it known to be common in people who have fair skin. It is advisable to treat this disease as fast as possible because the disease progresses over a long period of time and may get worse if left untreated.
Though the real cause of Rosacea is not known, you are going to see some possible causes of this disease and how it can be treated in this article.
Medical experts are yet to ascertain the real cause of this disease but what is known for now is the fact that this disease is common on fair people and those who blush easily and is common amongst persons of the same family. Alcohol is known to worsen this disease but is not known to cause the disease. Suspected causes of Rosacea include; disorders of the gastrointestinal tract, exposure to sunlight, mites in hair follicles, anxiety, stress, highly seasoned food and genetic factors just to name a few. Factors which trigger blushing such as emotional factors, fear, stress etc. can worsen the condition. The disease cannot be completely treated, however there are some treatments which can help relieve the condition.
Effective treatment of Rosacea
Treatment of this disease varies according to the severity of the condition and on the recommendations of the dermatologist. Treatment involves a combination of drugs alongside lifestyle changes. Dermatologists may also recommend sunscreens, moisturizers and some skin care products.
Topical medications such as metronidazole and tretinoin can be applied once or twice everyday and this provides effective treatment of the disease. These topical medications are mostly used in combination with oral antibiotics such as tetracycline and minocycline which work relatively faster compared to topical treatments.
The best but most expensive treatment for this disease is Laser treatment and it treats the most common and prominent signs of the disease and is effective in handling acne like pimples. The only setback with Laser treatment is the fact that you need to have several sessions before you start noticing any change.
What are some of the things we can to do at home to control and treat this disease?
Increase the quantity of water intake, this will help relieve you of the symptoms of this disease and at the same avoid stress too.
Things like alcohol, coffee, tea and cigarettes only help in making the situation worse, so you may want to avoid them.  
Doing more exercise and changing of towel after each birth can help control this disease and also minimize exposure to sunlight. And you should avoid foods and drinks which can increase this condition.
Though this disease cannot be completely treated, these above mentioned treatments will be of help in effectively treating the symptoms. And one starts feeling better after about a month or two. And symptoms will reoccur if you stop taking the treatments.