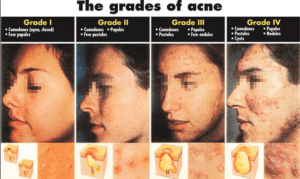 Anyone suffering from any form of acne must have now known how damaging it can be to your self-esteem. Unfortunately, it is a problem that is being faced by many, especially at an earlier age, and your knowledge of the different stages can help you with the right acne treatment.
One way of combating the disease is to understand the different stages in order to know where you are and what to do.
In this article, we are going to provide you with information about the different stages of acne and actionable steps to take.
Stages of Acne
Acne can be classified into four grades; these, of course, is after analyzing the skin and using to some criteria, as listed below:
The types of blackheads and white heads which are not inflamed

The types of blackheads and white heads which are inflamed

The way the skin above the acne is broken

The affected areas of the skin

The rate at which the skin has been inflamed
To treat acne you must, first of all, know the type of acne you are dealing with before you can treat it. Acne can be treated by either using herbs, at home or buying cosmetic products. Below are the different grades of acne based on the above criteria.
This is the least serious type of acne and usually presents without inflammation, and the pimples which are formed are usually very small and very few too, and are usually on and off with open heads (blackheads).
Both teenagers and adults are affected by this grade of acne and it is found around the nose region and skull. Treatment is usually not difficult and can be handled at home or using a cosmetic product. Below are steps which can be used to treat grade one acne.
This may sound too easy, but studies have shown that washing your face twice a day with a face cleanser can be of great help in treating acne and gets rid of sebum which causes blackheads and whiteheads.
Targeting the roots of acne
Acne is most caused by excess production of hormones, therefore if we take herbal preparations which can keep the hormone in a normal range will be a great way to target stage one acne.
Apply cream to your face if it peels due to acne, note should be taken that this cream should not contain oils which may instead increase the acne.
Targeting acne when it is at this stage prevents the acne from moving into a more serious stage and treatment at this stage is easier compared to the other stages.
This is more serious compared to the first grade, it presents with the same signs and symptoms as the grade one acne but with an increased number of blackheads and whiteheads and inflammation sets in which is characterised by the appearance of papules and pustules with an increase in skin breakouts.
Treatment of this type is same as with the first grade acne and if not treated  on tme it can move to the 3rd stage.
This is considered a more severe form of acne and there is an increase inflammation, with formation pustules and papules as with stage two but nodule formation sets in with scar formation as after effect.
It is advisable you visit a doctor if you have acne in its third stage for proper treatment so it does not progress to the fourth and most severe form of acne.
This can be referred to as cystic acne and is known to be the most serious form of acne with the highest level of inflammation. This stage of acne presents with sign like those in stage three acne with the formation of cyst in very severe cases. Visiting a dermatologist is avoidable with this stage of acne.
---
---
This aricle is about the best way on how to get rid of stretch marks. Since the is no one solution for dealing with this problem, I have made attempts to provide you with as many solutions as possible ranging from using simple moisturizer, serums and creams, to more invasive procedure; This is because this […]